Challenge 5 – How might we make deep-sea mining sustainable?
With a shift in focus to the deep-sea for mineral resources, how do we balance the needs of our technology-hungry society with exploitation of pristine abyssal marine environments?
Our thirst for technology and our desire for net-zero both require a steady supply of mineral metals. These metals are scarce on land and so the focus has shifted to deep-sea mining in abyssal areas far removed from land.
Deep-sea mining represents considerable challenges for industry and the scientific community; these deep (>3 km) environments are pristine and biologically complex but remain poorly understood in an ecological or earth system context.
Each new expedition into this deep, dark realm reveal's new species and biology, with these diverse communities reliant on food sinking down from the surface. Deep-sea ecosystems represent an exciting new frontier in our understanding of marine biology, but now face an uncertain future as climate change and resource exploitation put them in fine focus.
Challenging questions now need to be asked about environmental impact, international regulation, and sustainability, as well as recognition of the cost/benefit of trading our dependence on fossil fuels for exploitation of undiscovered ecosystems. Where does the balance lie between the development of 'net-zero' technology and disruption of some of the oldest biomes on Earth?
---
---
Teams
Over the 3-day enviroSPRINT, Teams rapidly investigated their Challenge area, identified a key problem and innovated potential solutions. The Teams demonstrated a prototype of their solution to a panel of expert judges who assessed the novelty and feasibility of the concept, along with the quality of the presentation, and selected a winner (★). Alongside this, each Team produced a 90-second summary of their idea to share with a wider audience. These can be viewed on the Team pages:
---
Experts
We are grateful to have the support of our expert panel:
Dr Daniela Diz
Daniela is an Associate Professor of Ocean Governance and International Law. Daniela has over 20 years of experience in the field of environmental law and ocean governance and has held positions with government and non-government organisations and academia. She regularly participates as an expert at UN meetings related to the law of the sea, marine biodiversity and fisheries, and conducts policy and legal studies related to marine biodiversity conservation and sustainable use to UN agencies, government institutions and civil society.
Dr Samantha Smith
Samantha is a Marine Professional with multiple roles in the Deep-Sea Mining sector. These include being a director and president-elect of the International Marine Minerals Society, director of an environmental consultancy called Blue Globe Solutions, and head of sustainability and external relations at Global Sea Mineral Resources (GSR). GSR is European company that has a mineral exploration contract with the International Seabed Authority. With a background in marine science, Sam is well placed to understand the complex dimensions of the Deep-Sea Mining challenge.
Prof. Andrew Sweetman
Andrew is Professor of Deep-Sea Ecology at the Lyell Centre (Heriot-Watt University) and leads a team researching Deep-Sea Ecology and Biogeochemistry. Andrew's research spans biodiversity, ecology and elemental cycling in deep-sea sediments and he is active in a number of international projects looking at the potential impacts of deep-sea mining on the organisms found in the abyss. Andrew also has an extensive research background in shallow continental sea mining impacts in a European context.
---
Challenge organisers
IAPETUS2 Doctoral Training Partnership (DTP)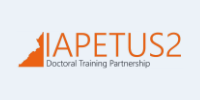 Named after the ancient ocean that closed to bring together England and Scotland, IAPETUS is a partnership that joins the leading research universities of Durham, Glasgow, Heriot Watt, Newcastle, St Andrews and Stirling, together with the British Antarctic Survey, British Geological Survey and the Centre for Ecology & Hydrology, in a united approach to doctoral research and training the next generation of leaders in the science of the natural environment.
IAPETUS is a multidisciplinary Doctoral Training Partnership (DTP), funded and accredited by the Natural Environment Research Council (NERC).
IAPETUS' training and research is focused around a number of interdisciplinary clusters of internationally-recognised excellence, which spans the environmental and Earth sciences:
Global environmental change
Geodynamics and Earth resources
Carbon and nutrient cycling
Hazards, risks and resilience
Biodiversity and ecosystem resources
Collaboration and knowledge exchange with industry, policy-makers and other non-academic organisations is at the heart of our activities. Over 30% of our studentships are CASE awards, which involve students working in close partnership with a non-academic organisation throughout their PhD and we already have over 35 external partners supporting IAPETUS's research, ranging from BP, to the Natural Trust for Scotland, to the Ordnance Survey.